A hospital's capacity is determined, in part, by its number of beds. What is just as important is the quantity and quality of the mattresses on those beds.
At Al Ahli hospital in Hebron, some of the mattresses are 23 years old. Head nurse Na'ila Abu Asaba says they're as old as the hospital.
"We couldn't afford to buy new mattresses of high quality so we are dependent on generous donations to help us give our patients the comfort they need and deserve."
Thanks to the generosity of Physicians for Peace (PfP), Anera was able to deliver 150 new antibacterial and waterproof mattresses to the largest Palestine hospital. The donated mattresses replace more than half the hospital's current stock and their high quality will serve Al Ahli's patients for years to come. This is PfP's second hospital donation. In 2013, the group donated 45 mattresses for the surgery/ICU department.
The majority of the older mattresses have served patients for over 15 years. Although some are good quality, a large number of the older mattresses are poorly made and over the years have deteriorated.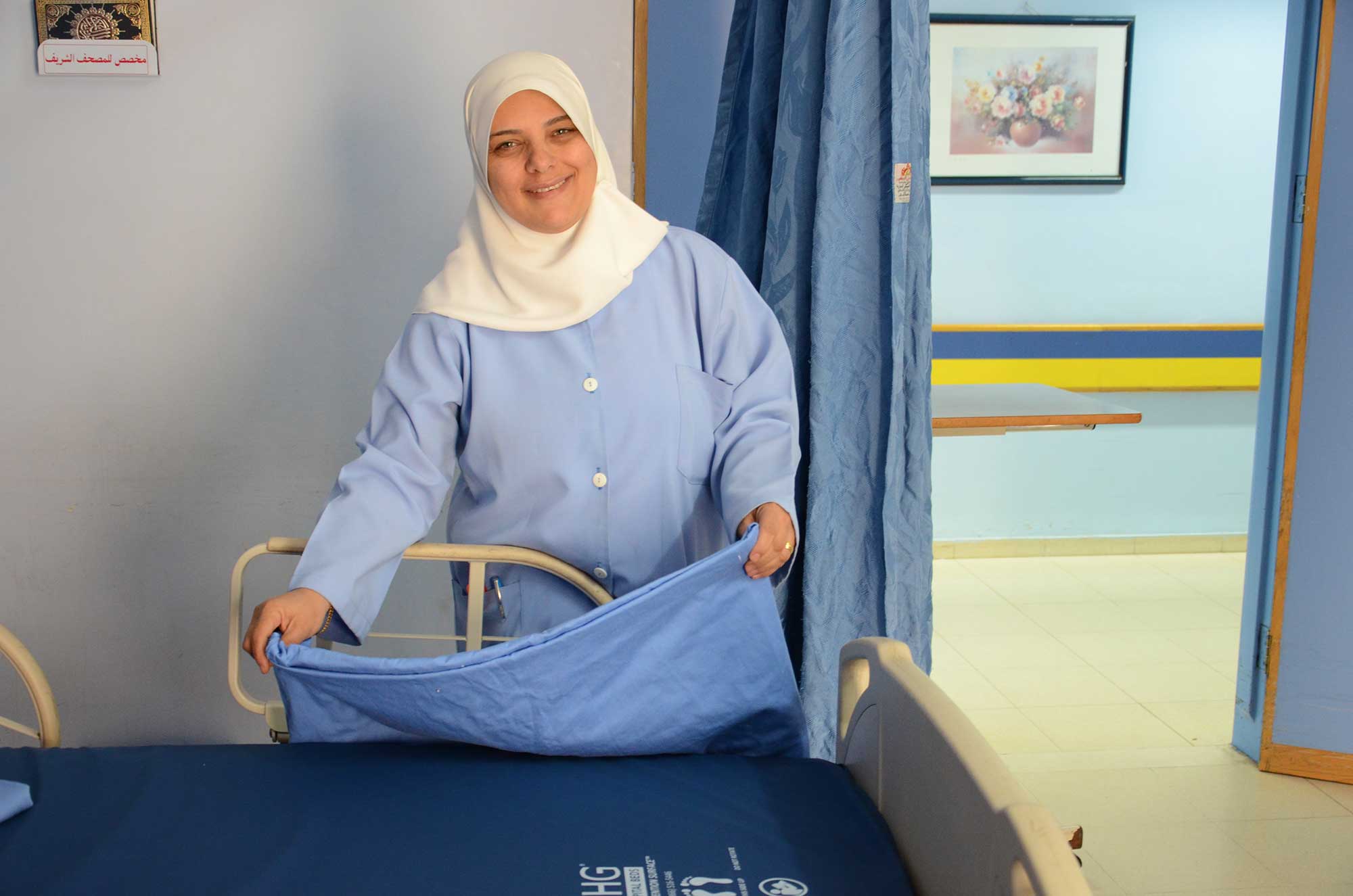 "Each Contribution Makes Us Stronger"
Hospital staff were overjoyed with the donation, says Na'ila. "It's time to put our run-down mattresses to rest." She has been working at the hospital since 1994. For the past four years she has been head nurse in the gynecology and obstetrics department (OB/GYN).
Na'ila says she knows the hospital both as a nurse and as a patient, having delivered her six children at Al Ahli. She laughs when she says the hospital is like a second home. "I became a mother for the first time here and have matured here so my loyalty to this place is unimaginable." Na'ila says the new mattresses are a welcome addition to her work in the OB/GYN department, which is the second largest maternity ward in the southern West Bank, boasting an average of 15 births a day!
The past three months ending 2015 were exceptional, Na'ila adds, with 600 deliveries a month. Her staff says the new good quality mattresses will ensure that new mothers get a good rest after giving birth. "The older mattresses lost their sturdiness," explains Naila. "We had women who had undergone C-sections who asked to be discharged early because the beds were so uncomfortable."
Anera was the first big donor to Al Ahli Hospital, providing $1.5 million to start its construction in 1988. The hospital serves an average of 150,000 patients a year and covers the health and medical needs of the Hebron governorate, especially in impoverished areas where medical services are lacking.
As the facilities continue to expand, Na'ila explains more supplies are needed. But the hospital cannot get them on its own: "Without contributions from our friends, like Anera, we would not have survived this long. Each contribution makes us stronger and helps us to ease the pain and suffering of the sick and disadvantaged."