Palestinian Food Recipes From the Anera Community
As you prepare your breakfast, think of others
(do not forget the pigeon's food).


– Mahmoud Darwish
Recipes passed down through family often hold special meaning. Sumaya, a farmer in Deir Al Balah, cooks vegetables grown in her Anera-built greenhouse. "Our favorite dish today is molokhia," she says. "I pick the jute leaves from my garden and use a recipe from my mother."
At the Dar El-Tifl school for girls in Jerusalem, founded for orphans from the 1948 conflict, Nawal has been preparing meals for the students for three decades. A vibrant community has been built around the school, premised upon giving and sharing. And as head cook, Nawal is at the center of it. Her own daughters attended the school. Local supporters often contribute food. When Anera visited, spaghetti sauce and meatballs were on the menu.
In Gaza, where Anera training and irrigation systems have supported sweet potato farmers, Aysha's sweet potato pie provides a special treat for her kids.
Children too can get in on the action. In Gaza, Anera's early childhood development programs incorporate active learning projects, including making healthy meals. Ghada, a preschool teacher comments, "The kids follow the recipe, and if they face any problems, they need to figure out how to resolve it on their own." Preparing food in this way allows young children to confront challenges and develop problem-solving skills in collaboration with peers.
"When children make healthy meals, they learn and experience the meaning of health. They won't forget what they did because it will be carved into their subconscious memories," says Suad, another preschool teacher.
Who's hungry?! Check out some of our favorite recipes below.
---
Rajaa's Yummy Chicken Dish
Rajaa is a mother in Lebanon who received a food voucher from Anera, with funding from IRUSA, during Ramadan 2022. In this film she walks us through how to make her children's favorite dish. She bought all of the ingredients using the voucher.
---
Nisreen's Gaza Kabsah
Nisreen Al Masri and her family received a food voucher from Anera. With it, she was able to buy all of the ingredients for kabsah. Below is Nisreen's Gaza spin on this classic Saudi dish. Sahtain!
Main ingredients
2+ T olive oil
2 bay leaves
3 cardamom pods
1 to 3 hot peppers (optional or to taste — spicy food is popular in Gaza)
1 cinnamon stick
2 medium onions — 1 sliced, 1 diced
1 medium carrot, grated
1 1/2 to 2 pounds chicken thighs
2 T tomato paste
1 cup rice
1/2 t salt
Water
1/2 cup raisins
1/2 cup slivered almonds (or pine nuts)
Spice mix
1/2 t dry ground coriander
1/2 t of turmeric
1/2 t of ginger
1/2 t of cumin
1/2 t of paprika
1/2 t of ground black pepper
1/2 t of ground cloves
1/2 t of cinnamon
1/4 t of dried lime
Preparation
Add 2 T of oil to a large pot. Heat it up and add the sliced onions, chicken, salt, cinnamon stick, cardamom pods, bay leaves, and a couple hot peppers (adjust for taste). Brown the chicken a bit and soften the onions. Add enough water to cover the chicken. Add tomato paste. Bring it to a boil and turn down the heat. Simmer for a half hour (or until the chicken is cooked).
In a separate pot, add the rice, dried spice mix, carrots, and 2 cups of chicken broth strained from the other pot. Bring to a boil, cover, lower heat, and cook until rice is done.
In a frying pan heat up diced onion until carmelized. Add raisins and heat through. Remove from pan and put aside. Add a little more oil to pan and saute the almonds until slightly browned.
In another frying pan or in the broiler, brown up the chicken.
To serve
Spread out the rice on a platter. Arrange the chicken on the rice. Sprinkle the raisin and onion mix and then the almonds on top. Serve it with a side of plain yogurt.
---
Rula's Hashweh (stuffing)
From Rula Kort, Anera's donor relations and special events manager: "Hashweh is a staple food in Palestine and Lebanon. It's like our macaroni and cheese, a comfort food you eat when you're sick or when you just need something warm and yummy in your stomach. It's my kids' favorite. You can also serve it at Christmas with a leg of lamb or stuff your Thanksgiving turkey with it."
Ingredients
2 cups of rice, rinsed until the water runs clear
1 pound ground beef
A dash or 2 of olive oil
1 T allspice
½ tsp of black pepper
1 tsp cinnamon
¼ tsp nutmeg
¼ tsp cardamom
1 T salt
3 cups of water or broth of any kind
Browned pine nuts
Making the hashweh magic happen
Saute the meat in olive oil, mixing in the spices. Once the meat is cooked, add the rinsed rice and sauté together for five minutes, letting the juices and the fats of the meat absorb a little into the rice. Then add 3 cups of water or chicken or beef broth, if you have it. Try the liquid, making adjustments to spices according to your taste. Bring the mixture to boil on high heat. Once the broth boils add the frozen peas. Bring the liquid to a boil again. Turn down to low heat, cover the pan, and cook for about 20 minutes, until the rice is done. Serve with browned pine nuts sprinkled over the top and with a dollop of yogurt on the side.
---
Sulieman's Comfort Food for Quarantine: Fasoulia bil Bandoura
Sulieman Mleahat, Anera Palestine's education program director, sends us this recipe for Green Beans in Tomato Sauce. He notes that this is a perfect quarantine dish as it can be cooked with frozen or tinned produce but at the same time, it is full of goodness.
This is a family favorite in Palestine and the Middle East. Simple and nutritious, the meal can be cooked in summer with fresh ingredients or winter with frozen beans and tinned tomatoes. It is full of vitamins and minerals to boost the immune system.
Ingredients (Serves 4)
250g of frozen green beans (or fresh ones if available)
One medium onion
3 cloves of garlic
5 tablespoons of olive oil
A tin of chopped tomatoes (or 100g of tomato puree with a handful of fresh crushed tomatoes)
Salt and pepper
750ml of hot water
Method (but no madness!)
Put olive oil in a heavy-based pot and add chopped onion and stir for 5 minutes on medium heat until golden. Add crushed garlic and stir for one minute. Add beans and stir for a further three minutes. Add the pureed tomatoes and stir for 2 minutes. Then add a handful of crushed tomatoes or a whole tin of high quality Italian tomatoes (and not the pureed). Stir and add a bit of salt and pepper to taste. Add 750 ml f hot water.
Cook for 15 – 20 minutes until beans are tender and tomatoes are cooked. Add a dash of hot water if a little dry.
Serve with rice. Sahtain!
---
Rula's Ka'ek Al Quds or Jerusalem Sesame Bread
Ka'ek is a favorite of Jerusalemites, like Rula Kort, who works as a donor steward in Anera's headquarters office. Ka'ek sellers can be found throughout Jerusalem and this delicious bread accompanies many meals. Rula recommends serving it with zaatar, labneh or hard boiled eggs. Her kids also like it with Nutella.
Ingredients
4 cups flour
1 3/4 cup warm water
3 tsp sugar
3 tsp olive oil
1 Tbsp yeast
1 tsp salt
Topping
2 cups raw sesame (untoasted)
1 tsp sugar
1 tps water
Preparation
Mix the warm water with the sugar, oil, yeast, then add to the flour and salt. Mix in a bread maker (or kneed by hand) until a ball is formed. Transfer the dough into a floured bowl, cover, and let it rise for 45 minutes.
When it rises it is almost double in size. On a floured surface, knead by hand for several minutes. Then divide the dough into four even parts. Knead each part into a ball shape. Leave on a floured surface, cover and let them rest for 15 minutes.
Flatten each ball into a rectangle, then roll into a long cylinder shape. Attach the ends to each other to make an oval-shaped ring.
Put each ring in the sesame mixture. Flip them so sesame seeds are on both sides of the dough. Place on parchment-lined baking sheets. Cover and let them rest for 30 minutes.
Heat the oven to 400 degrees ( while the Ka'ek is resting) and bake for 20-25 minutes. Halfway through, switch the cooking trays so that the loaves all bake evenly. Because oven temperatures can vary, keep an eye on the loaves and remove them once the sesame is golden brown.
---
Sambusek are crescent-shaped Ramadan pastries, commonly stuffed with meat or cheese and zaatar – but feel free to get creative! This recipe for the savory appetizers comes from Ola, the mother of a colleague in Gaza, and her sister Alia in Jerusalem.
Ingredients
1/2 lb. flour
2 tbsp. sugar
1 tbsp. baking powder
2 tbsp. yeast
1 cup yogurt
1 cup water (room temperature)
Preparation
Mix all ingredients together. Knead thoroughly. Cover and put aside in a warm place for an hour. Tear the dough into balls and roll out into rounds the side of a hand. Spread the filling over half of each round, leaving a little room on the edges. Brush the rims with water and fold the dough over to enclose the filling, pinching it closed. Bake in oven at 350 degrees Fahrenheit for 20-30 minutes.
---
Maqluba means "upside down" in Arabic. It's a fitting name for this rice dish, which is cooked with chicken and an assortment of vegetables. Before being served, the whole dish is flipped over on a plate and the pot lifted to give the dish a cake-like shape.
This maqluba recipe comes courtesy of Sabah who worked in our Gaza office for over three decades.
Ingredients
1 whole chicken, cut into four pieces
2 potatoes, peeled and sliced
3 eggplants, peeled and sliced
3 large onions, peeled and sliced
2 medium tomatoes, sliced
2 tsp. black pepper
2 tsp. allspice
2 tsp. cardamom
2 tsp cinnamon
3 tsp. salt
2 lb. basmati rice
4.5 oz. whole almonds
Preparation
Thoroughly clean the chicken with lemon, flour it and place it in a pot.
Sprinkle 1 teaspoon each of allspice, cardamom, cinnamon and salt on the chicken.
Let it boil for 15 minutes, then simmer over a low flame for 90 minutes.
Peel and slice the potatoes, fry until golden and put them aside. Slice the eggplants, fry until golden, and put them aside. Slice the onions, fry until golden, and put them aside.
Place the cooked chicken into the pot as a base, then add the slices of fried potatoes, then eggplants, then onion. Place the tomato slices on the sides of the pot.
Wash rice thoroughly and leave it in boiling water for 15 minutes. Sprinkle all the remaining spices (salt, allspice, cardamom and cinnamon) on the rice, and then pour the rice on the top of all the layers.
Put a small flat plate on top of the rice while pouring the boiled chicken soup slowly over it to ensure that the vegetables remain on the bottom of the pot. Make sure the water level is 1 inch above the rice.
Cook on high heat for 10 minutes, then on very low heat for 30 minutes. Turn over the hot pot on a large tray and leave it for 20 minutes. Remove the pot slowly and carefully to get the desired shape.
Fry the almonds to decorate the top of the maqluba. Serve with a fresh salad (check out the fattoush recipe below) and enjoy!
---
Our colleague in the Jerusalem office shares her recipe for this diced salad popular in Palestine and Lebanon.
Ingredients
4 medium tomatoes
4 large cucumbers
1 large green bell pepper
6 small radishes (or 2 large ones)
3 small scallions/spring onions
1 small bunch of arugula
1 medium head of lettuce
1 bunch of fresh mint (for garnish)
1 tbsp. salt
1 tbsp. ground sumac
1 tbsp. dry mint
½ cup of fresh lemon juice (3 medium lemons)
¼ cup of olive oil
Toasted bread (torn into small pieces) or croutons
Preparation
Toss the chopped tomatoes, cucumber, green bell pepper, radish, scallion, arugula and lettuce in a big bowl.
Mix the dressing ingredients in a separate container. Add the dressing to the salad, evenly coating the vegetables. Add the toasted bread pieces and toss again slightly. Garnish it with fresh mint.
---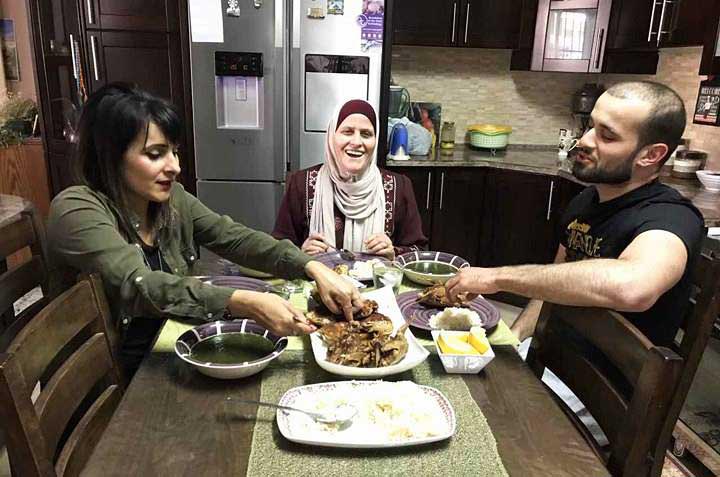 Our colleague shares a recipe from her mother in the West Bank for a favorite Ramadan dish. For her mother, she writes, "it is not a necessity nor is it a duty to cook, it's an art."
The star ingredient of molokhia is its namesake: a bitter, leafy plant also known as Egyptian spinach, among other names.
Ingredients
2 lbs. of molokhia Leaves
1 1/2 chicken
3 cups of rice
1 1/2 tbsp. of salt
1 tsp. of pepper
½ tsp. of allspice
6 cloves of garlic
1 onion
Sumac
Smoked paprika
1 tsp. of dried coriander
Preparation
Finely chop, rinse and drain molokhia leaves.
Cut the chicken into pieces, marinate in lemon and salt for 15 minutes and then rinse off. Put the chicken in a pot and dice 1 onion and 2 cloves of garlic over it. Mix it on the stove for 10 minutes.
Pour 3 quarts of water over the chicken and bring it to a boil. Make sure to skim off the fat that rises to the top every few minutes. Mix 1 ½ tablespoon of salt, 1 teaspoon of pepper and ½ teaspoon of allspice in the broth. It takes about 30 minutes for the chicken to get tender.
Take the chicken out of the water and put it in a pan, and add pepper, chicken spice, sumac, and smoked paprika. Put it in the oven for 10 minutes until the chicken is crispy.
Put the drained molokhia leaves in the chicken broth for 30 minutes. Skim off the fat that rises to the top.
Chop up 4 cloves of garlic and place them in a pan with the dried coriander and 2 tablespoons of cooking oil.
Take this mixture and pour it over the boiling molokhia stew. Let it boil for 10 more minutes and turn off the stove. Serve with rice on the side and bon appetite!
---
When Anera visited in 2017, Basima and her family were spending their fourth year celebrating Ramadan in Gaza. Basima is Syrian and husband is of Palestinian descent. Refugees from Syria, they were forced to flee and eventually ended up in Gaza.
"I don't need many expensive ingredients to make my family happy. I can always find ways to cook delicious food. And we are all thankful for those moments when we are all huddled around one table to eat together."
Basima grew up watching her mother cook and following her recipes. White bean stew is one of her staple Ramadan recipes, served to break a day of fasting. She pairs it with side dishes of yalanji (stuffed grape leaves), salad and rice with noodles.
In her kitchen, Basima sighs deeply. "Recipes are the only thing I could bring with me. Whenever I feel nostalgic for those old sweet times in Syria, I cook something that takes me back. Food reminds me of home, family and love."
Ingredients
1 lb. of cubed beef
1 14 oz. can white kidney (or Cannellini) beans
2 medium onions
2 medium to large tomatoes
2 tbsp. vegetable oil
2 tbsp. tomato paste
1 cup chicken broth
Salt, allspice, black pepper and cumin to taste
Preparation
Drain and rinse kidney beans. Chop the onions and tomatoes into small pieces. Heat the vegetable oil in a large pot and add the chopped onion. Fry until softened. Add the meat and brown on all sides. Add the tomatoes, kidney beans and some salt, black pepper and allspice to taste. Mix everything together.
Mix chicken broth and tomato paste together and add to meat and kidneys. Bring to a boil, then lower the heat to a simmer. Cover and cook for 45 minutes. At the end, add a splash of cumin.
Eat with plain rice or bread.
---
This recipe comes from Al Hakoura Women's Cooperative. They have generously shared their favorite recipe for Palestinian date cookies, known as ka'ek bi ajwa (كعك بالعجوة) in Arabic.
Dough Ingredients
3 cups, flour
3 teaspoons, anise seeds
3/4 cup, olive oil or vegetable oil
1 cup, sugar
1 teaspoon, instant yeast
1/2 cup, warm water
4 teaspoons, sesame seeds (black sesame seeds are ideal)
2 teaspoons, baking powder
Filling Ingredients
500 grams (approx. 20 ounces or 2 1/2 cups), date paste (if unavailable, mash pitted dates to a paste)
1 tablespoon, ghee (if unavailable, substitute with butter)
1 tablespoon, anise seeds
1 tablespoon, cinnamon
1 teaspoon, sesame seeds
Directions
Prepare the filling by mixing the date paste with the ghee and the other ingredients. Divide the mixture into balls (somewhat smaller than a golf ball) and then with your hands roll them into ropes about the width of a pencil and approximately six inches long. Set aside.
Prepare the dough: In a bowl, add the flour and anise seeds and then the oil. Rub it into the flour with your fingertips until it is well mixed and set aside to allow the flour to absorb the oil.
Dissolve the sugar and yeast in the water. Slowly add to the flower mixture along with the rest of the dough ingredients while kneading gently until the dough comes together.
Divide the dough into egg sized balls.
Again using your hands roll the dough into six-inch lengths. Flatten the lengths of dough into really thin sheets using a rolling pin or your thumb. If the dough is thick your cookies will be chewy as opposed to crisp.
Place the lengths of date filling on top of the flattened pieces of dough and fold the dough over the filling, enclosing it. Join the ends, forming a ring.
Bake in the center of a very hot oven (400℉) till the bottoms are golden brown (approximately 10-15 minutes). Optionally, turn on the broiler for a few minutes until the tops are golden brown.
Remove from the oven to cool for 10 minutes before enjoying.
Try enjoying with tea or coffee!
---
Rula's Mughli
When a baby is born in Palestine, it is the custom to make mughli — a traditional rice powder pudding made with caraway and cinnamon and topped with fresh nuts — for the new mother. The caraway and cinnamon are considered to be helpful for lactation. This is another tasty recipe from Rula Kort, Anera's donor relations and special events manager.
Ingredients
1 cup rice flour
8 cups water
½ cup sugar
2 T ground caraway
1 T cinnamon
Cooking instructions
Put it all in a pot, put heat on high. Stir with whisk until it boils and start thickening. Turn down to simmer and let it cook until you see a coating of the mixture along the sides of the pan.
Can be served hot or cold. Garnish with grated coconut and any nuts — pine, pistachios, almonds, walnuts, etc.
---
Recipes for the hot meals served during the Gaza crisis
In May 2021, Anera and our partners World Central Kitchen and CSSL began preparing hot meals for families displaced or otherwise affected by the bombardment of Gaza. We're sharing recipes for some of the dishes, including chicken and rice, cucumber and tomato salad, kofta with potatoes, rice, and vegetables, fried fish, and Thai chicken with rice and vegetables.
Thanks to the Anera community, we surpassed our GivingTuesday goal! While GivingTuesday is an important fundraising day for many, this year it was especially meaningful to Anera as the day coincided with the International Day of Solidarity with the Palestinian…
With the war happening in Gaza and the upheaval in the West Bank, you may be wondering what you can do to help. We hope this page will be helpful to you. There is more than one way to engage,…
Give today, change a life forever.